Description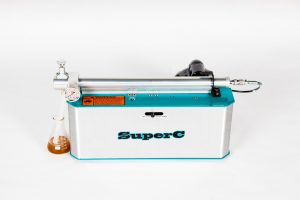 The SuperC is the base model extractor and the core product of our modular design. Capable of being upgraded, this model features a one ounce source chamber and a manually operated vent valve. Requiring only one standard 220 V outlet to operate and a standard gas feed tank, the SuperC can be used most anywhere.  (NOTE: You will need to provide your own power supply plug – this is not included with this model)
The updated SuperC now includes the AutoPilot. Other updates include: dynamic AutoPilot code, improved collection, more energy efficient motor, faster gearing for increased extraction efficiency.
Please Note: All orders can up to 5-7 business days to process. We will send your tracking information when order ships out.  ALL International orders for this product require payment in full via Bank Wire Transfer prior to shipping.
All customs and duties are expressly the responsibility of the customer.
Save
Save
Save
Save
Save
Save
Save
Save
Save
Save
Save
Save
Save
Save
Save
Save
Save
Save
Save
Save
Save
Save
Save
Save
Save
Save
Save
Save
Save
Save
Save
Save
Save
Save
Save
Save
Save
Save